DEVELOPMENT ACHIEVEMENT DETAILS
DEVELOPMENT RECORDS DETAILS
Development of the world`s first urethane protective film.
URETHANE PROTECTIVE FILM
protective film," was developed by our company for the first time in the world which has become a worldwide standard now.It has initially started with adevelopment request from a certain customer.
Our customer who was a touch panel manufacturer had discovered an adhesive residue on the acrylic protective film which used to protect the mother glassduring the manufacturing process. we had tested various tape products from different manufacturers but none of them met our customers' request ,so we decidedto develop a brand new product.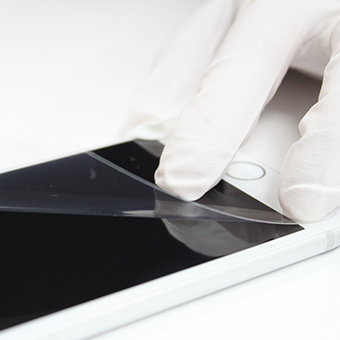 Customers request
No adhesive residue:After applying to the glass, any adhesive residue on the glass cannot be seen under a microscope even after peeling in 4 hours at 40°C,95% humidity and after 20 hours leaving at room temperature.
Adhesive stability:After keeping the glass for 4 hours in a temperature of 65°C and humidity of 95% and even after leaving it for 20 hours in room temperature,the adhesive strength to the glass should be sufficiently low and unable to destroy the treatment on the glass when it peeling.
Adsorption (wettability):Cut a 5cm x 6cm test piece and place it on the glass and let it absorb naturally.
It was extremely challenging as described above.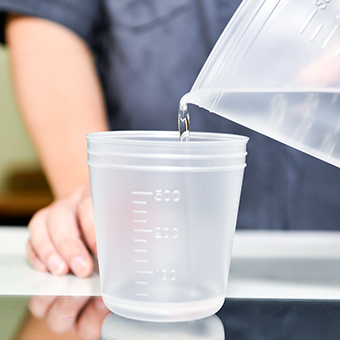 At that time there were two mainstreams., silicone-based protective film and acrylic-based protective film. We tried various blends of our silicone-based andacrylic-based adhesives, but none of them had the performance to satisfy our customer.
So we changed our perspective, applied a wide range of resins and conducted similar evaluations, and found that one resin showed greater adsorption (wettability)than an acrylic-based one. We collected various other resins from this series, and proceeded to make and evaluate hundreds of samples.
Among them we could found world first urethane based protective film in 2009. It shows sufficient performances in adhesive residue and absorption(wettability) inconducted experiments.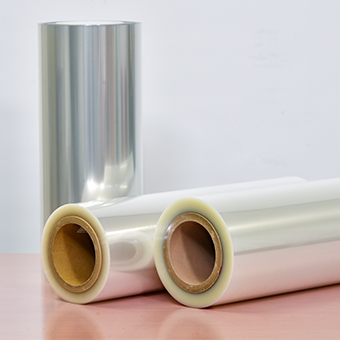 The customer did more rigorous tests, and we passed all of them. They confirmed that our product was perfect with the performance as well as exceeding theperformance of the existing product.
The world's first "urethane-based protective film TP-2316" is the world's first protective film which has an excellent absorption same as silicon-based protection ,is as inexpensive as an acrylic protective film and does not cause adhesive residue at all. It was adopted by a Taiwanese manufacturer of touch panels for tablets,which has the largest market share as a completely new type of protective film, and as a result, we have been selling in Japan, Taiwan and Korea.
Our newly developed "Urethane protective film" has been launched by a number of manufacturers, including major companies, and has established a certain market as the third leading protective film, following acrylic and silicone-based.
The first B to C product that used the surface coating technology 「wemo wearable memo」
wemo
"wemo wearable memo" is a memo pad which is with the concept of "Take notes and keep notes, anytime, anywhere".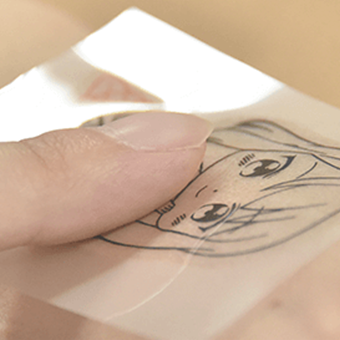 At the beginning, our company was developing a special transfer sticker (tatoo sticker) to use for skin for the requests made byclients as "a sticker that can be pasted easily without using water, Peel-resistant and easy to remove .We have developed a sealthat can be easily applied by pressure-sensitive method instead of the general method of water transfer (transfer using water).The sticker has excellent elasticity, so there is no sense of discomfort when it is applied, and it has excellent water resistanceand does not peel off easily and can be peeled off cleanly without falling apart. At present this transcription sticker technology isdiversified apart from the tattoo sticker purposes and practically used in the filed of dairy industry as well.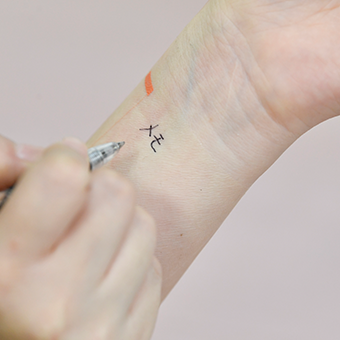 When exploring for a solution with a design consulting company(Kenma Inc,) we came up with the idea of "Skin Memo" when wesaw a situation where busy nurses are often to take notes on their hands at the hospital.
While developments are continuing the "skin memo" was reborn as the "wemo band type", a memo that is worn on the arm witha special coating on a silicon band, in order to make it easier for people on work sites to use.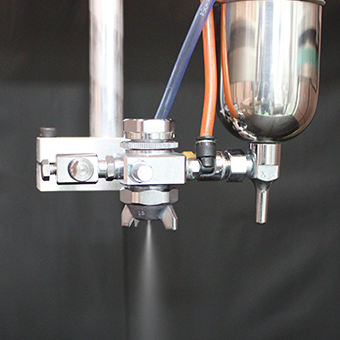 wemo" has a special coating on the surface of silicone rubber, which is based on our polymer technology, giving it the ability tobe written on with an oil-based ball-point pen and erased with a finger or an eraser.
Finally a smooth writing sensation like on paper has been implemented after testing various inks in the market.
Morover, the product oriented evaluation standards, standardization of quality and stabilization is achieved by using theexperiences as an industrial tape maker.
wemo, which applied our polymer technology, was our first challenge to the stationery industry, but it became a big hit, with totalsales of more than 500,000 units within two and a half years of its release.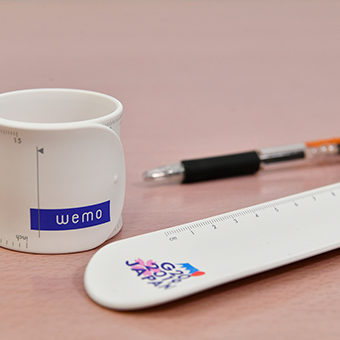 It was selected for its superior design and functionality as the souvenir for the guests from different nations who participated inthe G20 Osaka summit in 2019.
The surface coating technology which was used for wemo can be practically used for every form of products.
Not only the wemo series currently on sale,but also we look forward to develop new praducts and joint developments as well.
Precision punching of 0.5mm diameter
PRECISION DIE-CUTTING
One of our customers asked us to mass-produce "a sheet of more than 500 pieces ofadhesive tape punched out to 0.5 mm in diameter and placed on a 120 x 100 mm backingsheet" as a component to be built into a small switch.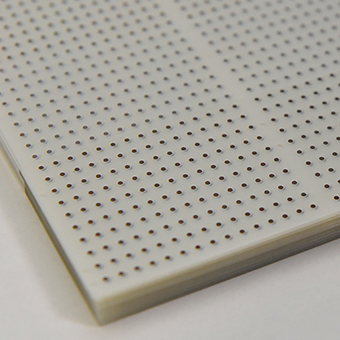 Although,this product was essential for further miniaturization of small switches andimprovement of the click feeling, but it required a fine size of 0.5 mm diameter and atolerance of ±0.05 mm, which far exceeded the accuracy of normal tape processing.
Again, It was necessary for more than 500 products to be arranged in a particular typewithout slipping off to improve the productivity of the customer's operations. Whenmanufacturing such a minute product, the adhesive tape could be dislodged or blown offfrom the sheet in the usual punching process. Of course, if even one of the 500 pieces weredislodged or blown off, the product would be defective.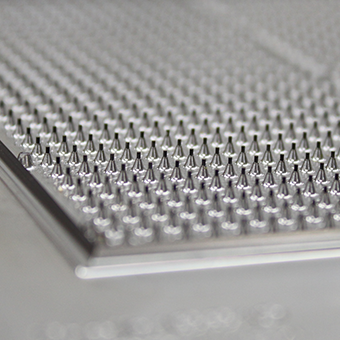 We realized it would be difficult to meet the stringent demands of our customers with theconventional methods, so after a lot of trial and error, we designed a special die-cuttingmold. This is a very sophisticated die that enables high-precision punching and has theability to fix the product to the base sheet.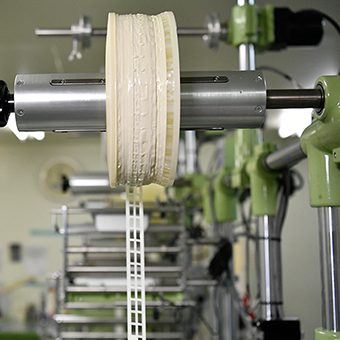 When various companies were trying, we were the only company that was able to manufacture products that met this demand. We have been able to achieve stable product manufacturing while meeting strict customer requirements, and contributing the customer to launch new products.